Writer : Roland Schimmelpfennig, Director : Yun Gwang-jin, Lighting: Cho In-gon
A tooth speaks
A town speaks. A house speaks. A door speaks. A body also speaks. Drama happens under the relation of all elements of the environment. From the past time, our lives have been attaching the memories onto these objects. Sound is one of their way of expression.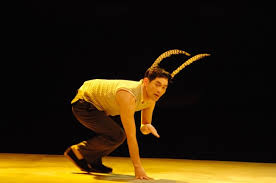 Crikcket and two Dragons
A pain from a rotten tooth seems to vanish if we pull out the one. A player says "It will be over soon." But the pain is not just for the one. Continuous sound of crying cricket, the doors to the story of different characters in a building are opened. Symbol makes us realize the reality. Dropping water also speaks.
Water from a faucet to the sea; water dragon
Dying from a lack of blood from the pulled tooth, a player dreams to visit his hometown embraced by the calmness of sea. The tempo of the play dramatically changed. Slow and spread time elapses.
A lost tooth, lost stories of poeple
Finally, a woman drop a tooth into a river. The last sound of turning off a light is the end of this play with the spot light on an actor cut out.